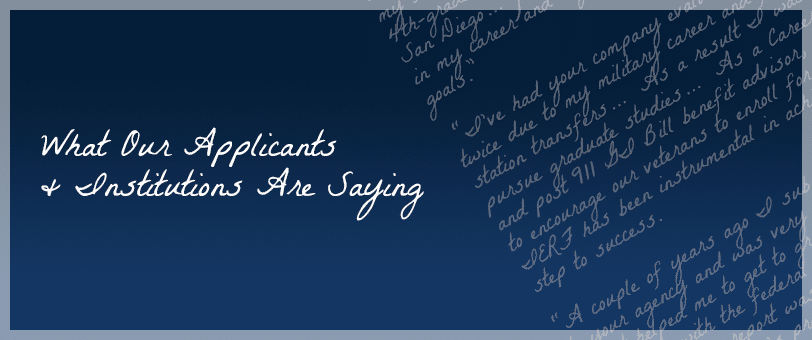 From Our Applicants
"Thank you! Your service was delivered in a timely manner and my wife and I will soon achieve our career goals and use your reports to practice as physiotherapists (physical therapists) in the U.S."
Parag Agarwal (countries of study: Canada and India)
"I have used your services before and I was very much satisfied with the results. This is why I am enlisting your services again. Again, thanks."
Maria Aileen Alfaro (country of study: Philippines)
"I am very pleased with the work your agency has done for me. Thanks to the evaluation I got from you, my education finally got accepted at my work, and last month I got a promotion. I will definitely recommend your services."
Ingrid Bolechova (country of study: Slovakia)
"Thank you for your prompt service and professionalism."
Kelly F. Bradford (country of study: Canada)
"I wanted to express my gratitude for your services! You gave great costumer and evaluation services. I will recommend your services to anyone."
Adi Kompel (country of study: United Kingdom)
"I would gladly recommend you to my other colleagues who would be needing the same or similar services. Thank you for helping me achieve my dream to be a nurse in Texas! All this was only possible because of the services you provided."
Marinen Maglente (country of study: Philippines)
"I really appreciate your kind assistance and exceptional expertise in evaluating my credentials. Again, thank you."
Josie Matutino (country of study: Philippines)
"I really can't thank you enough. My enrollment at WGU was not only on time, but was 100% successful in regards to the transfer of my credits and acceptance of my Associate's Degree."
Kenio Shirley (country of study: Jamaica)
"I will definitely recommend your agency to others! Thank you for your evaluation report. I used it to become licensed as a teacher in the state of Nevada."
Editha Soliman (country of study: Philippines)
"Within 24 hours of submitting IERF's evaluation report, I received my teaching credential from the CTC (California Commission on Teacher Credentialing). Thank you IERF!"
Gill Spittle (country of study: United Kingdom)
"I would like to express my satisfaction with the services provided to me by your Foundation. Aside from being thrilled with the results of my report, IERF staff were responsive and helpful. My concerns and inquiries never fell on deaf ears and staff maintained a professional and trusting working relationship with me throughout. I would gladly recommend you to my friends. Thank you for your services. "
Sara Lynne Thelen (country of study: France)