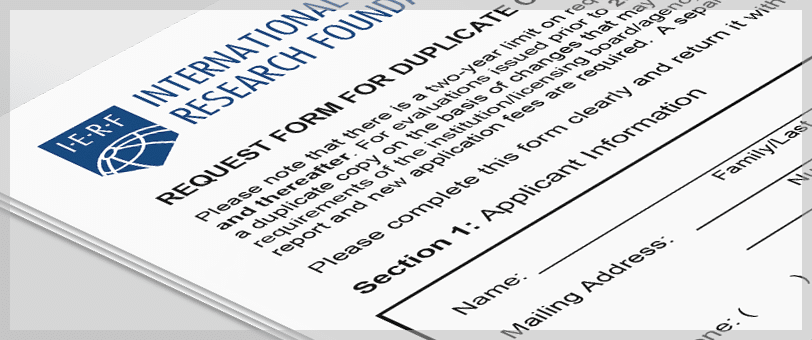 All Other Evaluations
Please note that there is a two-year limit on requests for copies of any evaluation. We are currently able to issue duplicate copies of reports dated 2016 and thereafter. For evaluations issued prior to 2016, a new report and new application fees are required.
IERF reserves the right to deny a request for a duplicate copy on the basis of changes that may have taken place in:
the requirements of the institution/licensing board/agency to which the report is to be sent, since the time the initial report was issued
the educational system of the country of study
IERF policy
In such a case, a new report and new application fees are required. A different form is required for duplicates of Nursing evaluations and Physical Therapy evaluations.
Also note that revisions are not available for reports that are not intended for Nursing or Physical Therapy licensure. The addition of new studies are subject to a new application and new report fee.
Report
One official sealed agency copy and one applicant copy are included in the report fee.  Allow 10 business days for your report to be mailed.
$55 for the first copy
$25 for each additional copy requested at the same time
Please note that applicant files and documents are only kept for 2 years. Returning applicants seeking additional reports after the 2-year period must submit a new application and new fees, along with their academic records.
Rush Service
If requesting a Rush service, please note that ALL fees must be paid by cashier's check, money order or credit card only. No personal checks will be accepted for rush applications.
Please also note that Rush applications received after 3:00pm PST/PDT will be considered to have been received the next business day. This also applies to payments, correspondence and documentation received after 3:00pm PST/PDT.
3-Day Rush
| | |
| --- | --- |
| Fee | $50 in addition to the report fee |
| Processing Time | 3 business days from the receipt of the application and fee |
Mailing Options
Regular Mail
Evaluations are sent via regular mail unless otherwise requested. There is no additional fee for regular mail.
Mailing with a Tracking Service
If you prefer mailing with a tracking service (e.g., UPS, DHL, etc.), we offer the following:
Domestic Secure Mailing for $20 per address
Domestic Next Day Delivery for $35 per address
International Secure Mailing for $75 per address 
Payments
Payment in the form of a check (unless requesting a RUSH service), cashier's check, money order or credit card must accompany all applications, and must be payable to IERF.
Overseas payments must be in U.S. dollars and drawn on a United States bank. If payment is being made by a bank draft, an additional $15 processing fee is required.
How to Apply
Before you submit your application, please be sure to read our full Terms & Conditions.
When you are ready to apply, you may download the forms below:

Request Form for Duplicate Copies of an Evaluation


Credit Card Information Form